West India Quay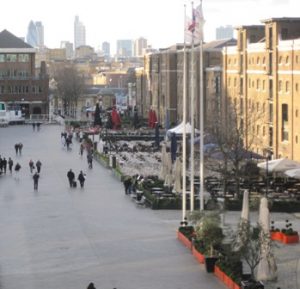 West India Quay – Description:
West India Quay faces Canary Wharf and is situated on the same docks as Canary Wharf.
Looking out across the quay towards the water is a row of 19th century Grade I listed warehouses one of which houses the Museum of London Docklands. The ground floors of most of the other warehouses contain bars and restaurants and it is very pleasant to sit outside one of these for a meal on a sunny day or inside in inclement weather.
On the quay are a number of large buoys from the museum and old cranes line part of the edge of the dock. The quay is linked to Canary Wharf by a floating bridge the legs and floats of which are reminiscent of a water boatman standing on a pond.
West India Quay – Bars and Restaurants:
The Ledger House – a fine old dockland building originally used by the dock's paper pushers and now brought back into use by Wetherspoons. Excellent for reading in daylight hours because of the original transparent roof designed to give the clerks working on the lading and unlading ledgers maximum light for their jobs;
Rum and Sugar – a bar/restaurant which is a part of the excellent Museum of London Docklands and which is located in an amazing old warehouse on the docks;
La Tasca – a branch of the Spanish restaurant chain;
Strada – an Italian restaurant;
Cafe Beluga – an independently owned cafe/bar offering stone grilled steak and seafood as well as more traditional bar food;
Henry's (formerly Bar 38) – a bar offering traditional food and excellent wines beers and cocktails. Note – do visit the unique unisex toilets. Used to have the most ugly fish in a tank behind the bar. As with all of these bars beware Thursday and Friday evenings when the banking children come out to play. It heaves.
Via Fossa – This is basically a public house with very poor light levels for reading and very expensive beer. On the plus side, in a rear room it has thrones on which you and your beloved can pretend for a minute or two that you a king and a queen. Leave it for the Masons!
Browns – This restauaraunt serves excellent internataional food. However my partner and I have time after time experienced very slow service in this establishment. Whether this is because we try to frequent such places when they are quieter – ie: when the kiddie bankers have gone home to the country for the weekend – or whether this is normal I can't say.
The Curve – this is a typical upmarket hotel restaurant. Reasonable and comfortable. Nothing to write home about. Good seafood.
West India Quay – Getting There:
Nearest Underground/DLR Stations: West India Quay DLR (1 minute walk), Poplar DLR (4 minute walk), Canary Wharf(5 minute walk), Heron Quays DLR (7 minute walk), Westferry DLR (9 minute walk)
(click on station to find other places to visit nearby)