Places to Visit Around Baker Street Station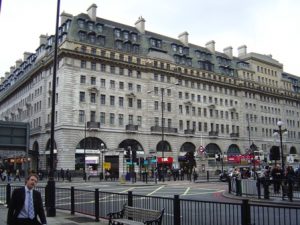 Baker Street Station is located on the north east corner of the junction of Marylebone Road (which runs east-west) with Baker Street (which runs north-south).
Directly outside the station is a concourse from which open top bus tours of London start. I recommend taking an open top bus tour at the start of a visit to any new city, it helps to orientate you and gives you an overview of where things are and places that you may want to visit in more detail.
If you turn left out of the station and walk east along Marylebone Road, a few metres away you will see a green dome which is the old planetarium. This is now a part of Madame Tussauds Wax Museum. If you intend visiting the museum I recommend that you book your tickets in advance because the queues can be horrendous. About three minutes further east along Marylebone Road you come to a road on your left called York Gate, a minute's walk along here will take you to Regent's Park.
If you cross Marylebone Road after leaving the station and turn left (east), a four minute walk along Marylebone Road will take you to Marylebone High Street on your right. Marylebone High Street can be described as at the up-market end of trendy and has some excellent shops and restaurants.
If you turn right out of the main station entrance you come to Baker Street. Turning right up Baker Street takes you north. On the left hand side of the road you quickly come to the London Beatles Store which sells Beatles paraphernalia, followed by the Sherlock Holmes Museum and then The Volunteer which is a comfortable Public House which serves excellent food. Following Baker Street further north for another  hundred metres or so (veer right at the junction) you will come to another entrance to Regent's Park.
If you turn left (south) down Baker Street the second turning on your left is Paddington Street. A few metres on your left along Paddington Street is Casa Becci which is a small, excellent Italian Restaurant – details: Casa Becci, 32 Paddington Street, London, W1U 4HE – Tel: 020 7935 7031.