Borough Market History and Produce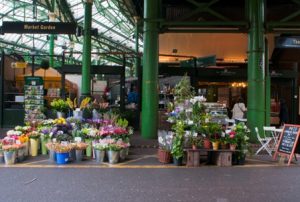 Borough Market – Description:
Borough Market is in Southwark about 100 metres south of London Bridge. This covered market has a well-deserved reputation as a gourmet's delight. Fresh produce from throughout the British Isles and across Europe is beautifully and temptingly displayed. Many of the stalls offer tastings to further tempt you to buy.
Some of the best quality meat, fish, game, cheese, fruit and vegetables in London, if not in Europe, can be purchased here, but be warned, at prices to match! The market also has traders who specialise in artisan chocolates, truffles, hams, spices, breadand cakes to name just a few.
The market is surrounded by good places to eat from gastro-pubs to up-market restaurants; there are plenty of stalls selling exotic takeaways on Fridays and Saturdays as well so you will be sure not to come away hungry,
Borough is now a major tourist attraction, and can get very crowded, it is also heavily frequented by film and TV crews, so if you have serious shopping to do try to get there early.
Borough Market – History:
As far back as 1014, and very likely earlier, London Bridge was frequented by traders selling fish, grain, vegetables and livestock. In the 13th century traders were relocated to what is now Borough High Street and the market, now known as Borough Market, has existed there ever since.
In 1755, the market was closed by Parliament, but a group of Southwark residents raised £6,000 to buy a patch of land known locally as The Triangle, once the churchyard of St Margaret's, and reopened the market. The Triangle is still at the heart of the market today.
Borough Market – Website:
http://www.boroughmarket.org.uk/
Borough Market – Opening Times:
Thursday 11am to 5pm
Friday 12am to 6pm
Saturday 8am to 5pm
Borough Market – Getting There:
Address: 8 Southwark Street SE1 1TL
Nearest Underground Stations: London Bridge (2 minute walk), Borough (7 minute walk), Monument (8 minute walk)