Lincoln's Inn Fields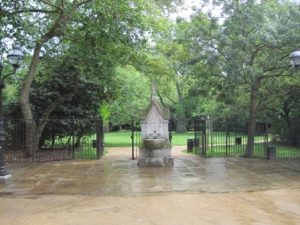 Lincoln's Inn Fields is the largest public square in London. As with so much of our capital's heritage a story goes with it:
In the 14th Century lawyers took up a lease on land formerly owned by the Knights Templar. The site is still known as the Temple. The lawyers were in dispute with King Henry III who had set up a law school in Oxford. The lawyers in London occupied Inns in the Temple which were set up as lodging houses.
Because the Inns were outside the City of London the lawyers didn't have to pay taxes to the City. This resulted in a dispute which lasted for centuries with the lawyers briefing on their own behalf. When there was a major fire in the Temple, legend has it that the City refused to act as the Inns were outside its boundaries. The lawyers are said to have extinguished the fire using the ample stocks of beer and wine from their cellars.
The lawyers enjoyed strolling in the fields around the Temple – Lincoln's Inn Fields. As a part of the growth of London in the 17th Century, a property developer called William Newton bought the land for a speculative housing development. The lawyers were outraged that their fields were being developed. They stoned the workers digging the foundations of the new houses driving them off thge land. Newton was undeterred – he rounded up some of the biggest ruffians in London and hid them under tarpaulins on the wagons brought onto the site by his newly hired workers. When the lawyers arrived to drive the new workers off the site Newton's bruisers fought them off. Newton's houses still stand around Lincoln's Inn Fields despite the fact that they were considered at the time to be temporary structures with a life span of decades rather than centuries.
Nell Gwynn, mistress of King Charles II lived at 58 Lincoln's Inn Fields. One day, when the king was playing with his son by Nell, the child ran away in tears. Nell called to it saying "come back you little bastard", the king was shocked and asked why she was so harsh. Nell apparently replied that the child had been given no other name. The king promptly made him Duke of St Albans with land and an income that his descendants enjoy to this day.
The Sir John Soane's Museum stands in the north part of the square. Sir John was an acclaimed architect in the 18th to 19th Century and his house is crammed with relics from that time. It's well worth a visit, it's free but get there at their opening time 10:00 am because it's extremely popular.
Lincoln's Inn Fields – Getting There:
Nearest Underground Stations: Holborn (3 minute walk)