Oxford Street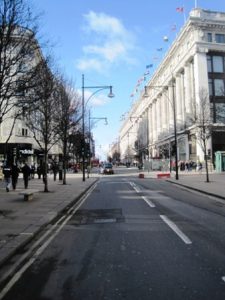 Oxford Street – Description:
Oxford Street is probably the most famous shopping street in London. It is approximately 1.5 miles long and has about 300 shops.
Just beyond its eastern end of Oxford Street is the distinctive Centrepoint which is a 34 storey glass and concrete tower visible from much of Oxford Street and useful for orientation.
Oxford Street runs from Totenham Court Road station (closed to all but Northern Line trains until 2016)  in  the east to Marble Arch station in the west. About halfway along its length is the junction with Regent Street at Oxford Circus, this junction has recently been provided with diagonal pedestrian crossings so that it is not only possible to cross the junction in a north-south or east-west direction but also north-west to south-east and north east to south-west. Surprisingly, perhaps, this configuration has worked well.
Oxford Street is anchored by a number of big name department stores including the famous Selfridges and is the home of the flagship stores of many successful retail chains. It lies at the heart of a much larger shopping district with Regent Street andBond Street and smaller streets towards the centre specialising in top end fashion, Totenham Court Road toward the north-east in consumer electronics, Charing Cross Road and Denmark Street to the south-east in books and musical instruments and Edgware Road to the north west in electronic components.
Oxford Street – History:
Oxford Street used to be the main road to Oxford. Once called Tyburn Road it was the route by which prisoners were conveyed by cart from Newgate Prison to the gallows at Tyburn near Marble Arch. The term "on the wagon" (meaning not to drink) is said by some to be derived from this journey – when the carters conveying the condemned to the gallows would stop at an inn for a drink,the landlord would ask if he should pour a drink for the condemned man to which the reply was often  "not him – he's on the wagon".
Oxford Street – Getting There:
Nearest Stations: Bond Street, Marble Arch, Oxford Circus, Totenham Court Road
(click on station names to find other places to visit nearby)