Tower Hamlets Cemetery Park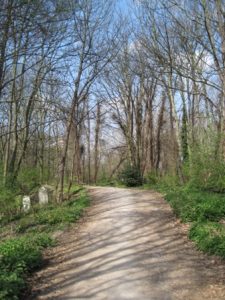 Tower Hamlets Cemetery Park – Description:
Tower Hamlets Cemetery Park is 13 hectares of semi-wild woodland criss-crossed with well maintained paths. The park is quiet and full of wildlife in the undergrowth, trees and ponds. It's a great place for a walk or just to sit and enjoy the birdsong.
The Friends of Tower Hamlets Cemetery Park organise a wildlife watch club for children aged between 4 and 14, and guided walks on the third Sunday of the month (see external link below).
Tower Hamlets Cemetery Park -History:
The cemetery was opened in 1841. London's population had grown rapidly and the existing burial grounds were becoming overcrowded, as a result Parliament passed a statute to the effect that seven new private cemeteries should be opened in the countryside around the capital for the burial of London's dead. These cemeteries were Kensal Green 1833, West Norwood 1836, Highgate 1839, Abney Park 1840, Brompton 1840, Nunhead 1840 and Tower Hamlets 1841.
Tower Hamlets Cemetery was very popular with people from the East End. By the mid 1860s internments were taking place at a rate of 10,000 a year. The most popular form of internment (accounting for eight out of ten burials) was the 'common' grave, in which a burial cost 25 shillings. It cost 63 shillings for a private plot. By 1889 247,000 bodies had been interred and the cemetery had already arrived at the overcrowded and neglected condition that increasingly characterised it through the 20th century. Burials continued to take place until 1966 when the cemetery was bought by the Greater London Council. The intention was to create an open space for the public, however strong local opposition stopped the clearance of the site. Ownership passed to Tower Hamlets Council in 1986 and in 2000 it was declared a nature reserve.
Tower Hamlets Cemetery Park -Opening Times:
I am informed by the Cemetery Park Officer that the Park is now open 24 hours a day for non-vehicular access.
Tower Hamlets Cemetery Park – Website:
Tower Hamlets Cemetery Park – Getting There:
Address: Tower Hamlets Cemetery Park, Southern Grove
London E3 4PX
Nearest Underground stations: Mile End (6 minute walk), Bow Road (8 minute walk)